Our Process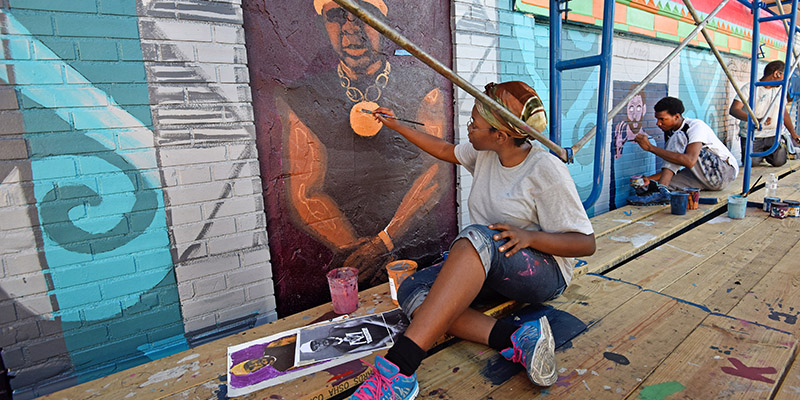 Art Creates Community > Community Creates Change
Each Groundswell artwork is unique. It could only have been made by a particular group of people in a particular moment in time. 
Twenty remarkable young women use public art to make their voices heard in the fight against street harrassment in "Respect is the Strongest Compliment."
A group of incarcerated students brings a vision of balance and harmony to a corridor on Rikers Island in "Balance."
Young New York City Housing Authority residents respond to the critical issues in their community in "Stronger Together." 
Despite the singularity of each finished Groundswell artwork, all are created through the same rigorous collaborative process. This process empowers young people to use art as a tool for social change and offers an unexpectedly rich lightning rod to engage the broader community.
The process begins when a group of disparate stakeholders – teens, artists, community organizations, funders, a willing wall owner – come together around a shared vision and objective. To transform a vacant lot. To speak out against gun violence. To mobilize local residents to improve their streets.
Tasked with a specific mission, each team of youth artists dives into intensive research, which might include meeting with experts, going on field trips, and/or interviewing community members. Through hands-on design sessions, these young people develop a unique visual language and vocabulary of images, colors, and gestures. Groundswell artists integrate these visual ideas into a design that has its own artistic integrity, while preserving the contributions of individual team members.
Once an initial design is complete, young people share their work publicly with neighborhood residents for feedback and concerns. They return to the studio armed with this community input, prepared to revise and improve the design, before seeking final approval from each project partner.
Finally, fabrication begins. Each youth gains experience in all aspects of the artmaking process, working onsite (and largely outdoors) where they continue to engage with community members and share their work.
The process ends with a joyous public dedication – an opportunity for the community to celebrate the hard work of Groundswell youth while coming together in consideration of the broader project topic.
Through this process, we've seen over and over again how public art can activate space and convert it into something extraordinary – inspiring reflection, revelation, action, and change.